Discover more from StarStyle® Empowerment
Simple Strategies for Living, Loving, Laughing, Learning, while Making a Difference and Having Fun!
Honoring Moms
With gratitude to all Mothers, Everywhere!
Miracle Moment®
"My mother said to me,
If you become a soldier, you'll be a general;
if you become a monk, you'll end up as the Pope. 
Instead, I became a painter & wound up as Picasso."
Pablo Picasso
---
A Message from Founder/Executive Director, Cynthia Brian
When I was a little girl, my mother told me that she would cut off her right arm to save any of her children if they were in danger. I remember being horrified at this suggestion. If she didn't have her right arm, how would she hug her five children? It wasn't until I became a mother and a Momma Bear, that I understood the intense devotion, dedication, and protection a mother has for her offspring. The love of mothers for their children is an incomparable force that knows no bounds. It is a love that transcends time, distance, and even death. It is a love that is unconditional, unselfish, and pure. As a mother, we want our children to be happy, successful, and loving.
A mother's love is often described as fierce, but what does that really mean? It means that a mother will go to great lengths to protect and care for her children, no matter the cost. She will sacrifice her own needs and wants to ensure that her children are well-fed, well-clothed, and well-loved. She will work tirelessly to provide for them, to guide them, and to teach them the values and principles that will help them navigate the world.
The love of a mother is also incredibly forgiving. No matter how many mistakes her children make, no matter how many times they disappoint her, she will always welcome them back with open arms. She will offer words of encouragement, a shoulder to cry on, and a listening ear, even when her children don't deserve it.
How, then, can we honor the great mothers in our lives? Here are a few suggestions:
Express gratitude. Whether it's a heartfelt thank-you note, a phone call, or a simple hug, make sure your mother knows just how much you appreciate all that she has done for you.

Spend quality time together. Set aside some time to do something special with your mother, whether it's going out for lunch, taking a walk in the park, or watching a movie together. Make sure she knows that she is important to you and that you enjoy spending time with her.

Help out around the house. Mothers often bear the burden of household chores and responsibilities. Show your appreciation by taking on some of those tasks yourself. Help with the cooking, cleaning, or laundry, or take care of younger siblings so that your mother can have a well-deserved break.

Support her dreams and goals. Just as mothers support their children's dreams and goals, it's important to support your mother's aspirations as well. Whether she wants to go back to school, start a new hobby, or travel the world, let her know that you are behind her all the way.

Tell her you love her. This may seem obvious, but it's important to say those three little words often and sincerely. Don't assume that your mother knows how you feel – tell her in no uncertain terms how much you love her and how grateful you are for all that she has done.

Make a donation honoring your wonderful Mother. Visit https://www.paypal.com/fundraiser/charity/1504
The love of mothers for their children is a powerful force that should never be taken for granted. Mothers cheer for us and believe we can do anything.
I'm glad that my mother never had to sacrifice her right arm to save her children, yet, I know as a mother, and now a grandmother, I would do the same for my family.
Take the time to honor the great mothers in your life and let them know just how much they mean to you. They have given us life. Express your gratitude and appreciation.
Listen to our teens, Keerthi, Kirpa, and Milan talk about the history of Mother's Day and why they are grateful for their Moms. Listen at Voice America Network, Empowerment Channel: https://www.voiceamerica.com/episode/143981/happy-mothers-day
HAPPY MOTHER'S DAY to all the AMAZING WOMEN who care for the world.
Remember, we are all Picasso's to our mothers!
Sincerest gratitude,
Cynthia Brian
Founder/Executive Director
Be the Star You Are!® 501 c3 charity
PO Box 376
Moraga, California 94556
Cynthia@BetheStarYouAre.org
https://www.BetheStarYouAre.org
DONATE: https://www.paypal.com/fundraiser/charity/1504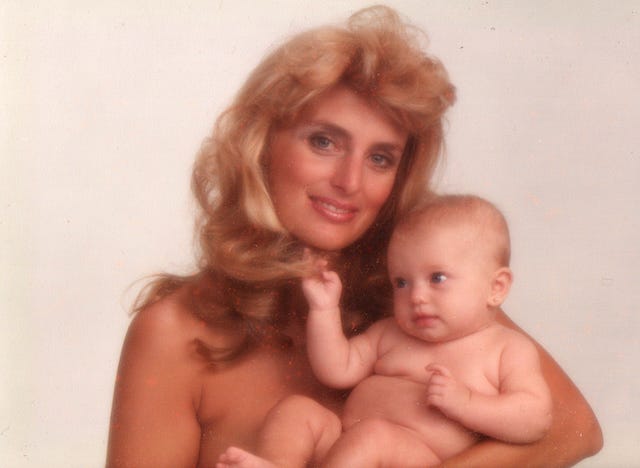 ---
FUN AT THE FAIRE
The Be the Star You Are!® booth at the Moraga Faire, under the direction of out two teen chairpersons, Ruhani and Taylin, was a roaring success. Our volunteers helped hundreds of children and adults plant seeds, distributed potpourri, told stories and read from the book, No Barnyard Bullies, in the Reading Circle, and walked around the Faire handing out goodies. Thanks again to our sponsor, MB Jessee Painting, www.MBJESSEE.com.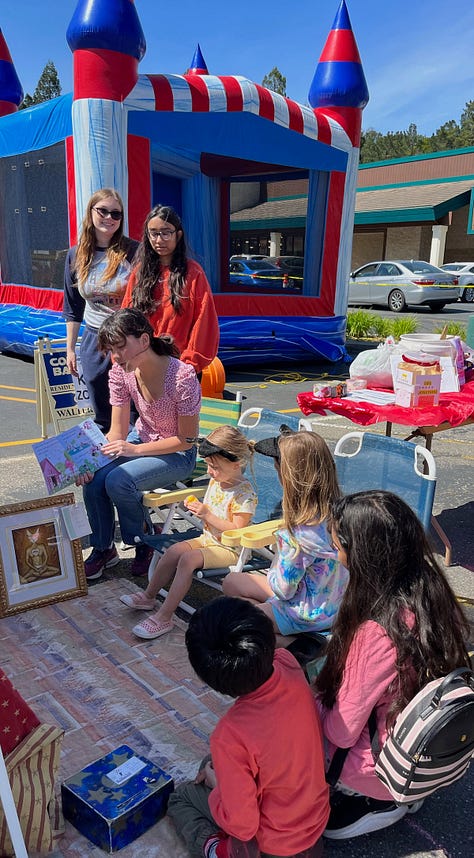 Everyone had a great time and we look forward to seeing you next year! https://www.bethestaryouare.org/copy-of-events
---
DONATE YOUR SHOES THROUGH END OF JUNE
Be the Star You Are!® in collaboration with Mark Hoogs State Farm Insurance and 5 A Rent a Space are collecting new or gently worn shoes to ship to women and families in developing countries. With the Russian war against Ukraine and the unprecedented natural disasters around the world, millions of people are currently experiencing difficult living conditions. Although books are always an enlightening resource, shoes are a basic necessity.
Through June 30th, drop shoes at these two locations:
State Farm Insurance
629 Moraga Road, Moraga
925-254-3344
455 Moraga Rd. #F, Moraga
925-631-7000
With your donation of shoes, you will be sharing your love. Thank you!
For more information, visit https://www.bethestaryouare.org/shoedrive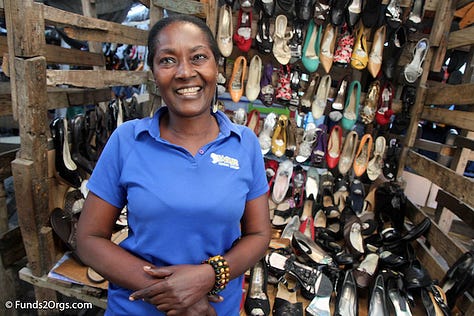 ---
TO OUR MOTHERS
by Julia Howe
Each mother is uniquely beautiful.
Maybe she's the she-E-O of her own life, fearlessly proposing her investment model at a table that would dismiss her. Yet, she still saves an extra 2 hours of the 26 she works to binge-watch Buffy the Vampire Slayer with me.
Perhaps she is a trailblazer, doing research by women for women, and a compassionate doctor who learned Mandarin so she can crack jokes with her patients. She's also the mother who I crawl into bed with when I'm shaking from a midnight nightmare, and she will always hold me close and say, "You are safe while you are here with me."
To the parent who wears many hats, from nurse to teacher to chef to chauffeur. Motherhood is a job that demands ceaseless dedication, patience, selflessness, and unwavering love. It changes one life and also changes billions of them. My mother embodies both selfless love and unwavering strength. Her love is the purest form of love there is; the unwavering force that transcends boundaries and radiates through every aspect of our lives.
Mothers are often compared to superheroes, cheerleaders, and warriors because of their ability to juggle multiple responsibilities, be present at every event, and fight fiercely for their children's well-being. But our mothers go beyond comparison. There is no superhero who, like her, can enliven and electrify all who stumble across her path. There is no cheerleader who will go wild when you lose your first tooth. There is no warrior who fights with kindness.
It is a rare person who can battle without hate.
My mother leads by example. She is beautiful, so I can be beautiful. She doesn't just protect me; she strengthens me. Most of all, she is a person whom I love.
A person whom I love very much.
Teen Artwork credited to Perisu Deviren, Nathaniel Howe, and Alison Cohn
Julia Howe is a teen reader and writer with Be the Star You Are!®, passionate about youth mental health and literacy. She loves exploring innovative education methods and running long distances."
---
BTSYA TEEN SHOWCASED
Teen poet and Express Yourself!® host, Sharaya, has been honored to have her poetry on display at the Orinda Library in a special showcase of art and poetry.
Congrats, Sharanya. https://lamorindaarts.org/product/joann-lieberman-that-was-then/
---
MORE NEWS
Next month Be the Star You Are!® will be focusing on the mental health of teens with articles and radio broadcasts. One of the organizations that we will be featuring is A Brighter Day.
A Brighter Day is a nonprofit organization that is passionate about improving the lives of teenagers and young adults by providing them with essential mental health resources and support. The organization's upcoming events offer an exciting opportunity for teens to get involved, make a difference, and join a community dedicated to making the world a better place for teenagers! By volunteering with A Brighter Day, teens can gain valuable experience, make new friends, and create positive change in their own lives and the lives of others.
No prior experience is needed, just communication and teamwork skills!
2023 Charity Golf Tournament, Crow Canyon Country Club, Danville, flexible hours 9 am - 7 pm
Car Show at Broadway Plaza, Broadway Plaza, Walnut Creek, flexible hours, 10 am - 6 pm
Anyone interested email the volunteer coordinator, Shaina, at shaina@abrighterday.info!
---
SIMPLE WAYS TO HELP!
Spring is time to stock up on gifts for holidays forthcoming. We have suggestions for you to shop, save, and stay safe. Please use these web sites for all of your shopping essentials.
1. Discounted books at Amazon: 
https://www.amazon.com/shops/be_the_star_you_are_charity
2. Giving Assistant: Shop. Earn. Give! Use Giving Assistant to earn cash at 3500+ popular online stores :https://givingassistant.org/np#be-the-star-you-are-inc
3. Shop at over 1300 stores on IGIVE: http://www.iGive.com/BTSYA
4. Buy "Read, Lead, Succeed" black tanks and books at StarStyle® Store: 
http://www.starstylestore.net/
5. Are you a gamer, lover of new software, or other digital content? Buy all of your favorites at Humble Bundle. http://ow.ly/cYs130iN6n4e
---
OUR RADIO BROADCASTS EMPOWER!
When you want to be uplifted and informed, tune into our two radio broadcasts: StarStyle®-Be the Star You Are!® and Express Yourself!™ Teen Radio.
Live every Wednesday from 4-5pm PT, Cynthia Brian hosts the lifestyle program, StarStyle®-Be the Star You Are!® showcasing success-perts and information that will make your life enjoyable and meaningful.
On Sundays from 3-4pm PT, listen to Express Yourself!™ Teen Radio, where teens talk and the world listens. No topic is off limits and the program is uncensored and unedited. What young people are thinking, they are broadcasting.
Tune in to both programs on all platforms where you listen to podcasts and music including iTunes, Tunein, Stitcher, iHeartRadio, Spotify, and more!
---
DIRECT LINKS
Positive Results: https://www.bethestaryouare.org/positive-results
About Us: https://www.bethestaryouare.org/about_us
Programs: https://www.bethestaryouare.org/programs
How to Help: https://www.bethestaryouare.org/how-to-help
Blog: https://www.bethestaryouare.org/blog-1
Events: https://www.bethestaryouare.org/events
Contact us: https://www.bethestaryouare.org/contact
---
Make a DONATION through PAYPAL GIVING FUND and PAYPAL with 100% going to BTSYA with NO FEES:  https://www.paypal.com/fundraiser/charity/1504
https://greatnonprofits.org/org/be-the-star-you-are-in
https://www.guidestar.org/profile/94-333388
BE THE STAR YOU ARE!® is proud to be honored as a TOP NON PROFIT for numerous consecutive years. We THANK YOU for making that happen!
HAPPY MOTHER'S DAY TO ALL!
Be the Star You Are!® 501 c3 charity
PO Box 376
Moraga, California 94556
https://www.BetheStarYouAre.org