Discover more from StarStyle® Empowerment
Simple Strategies for Living, Loving, Laughing, Learning, while Making a Difference and Having Fun!
Leading with Joy!
Be the Star You Are!®
 Miracle Moment®
"If your actions inspire others to dream more, learn more, do more, and become more, you are a leader. ". John Quincy Adams
A Message from Founder/Executive Director, Cynthia Brian
Throughout my life, my goal has been to encourage, inspire, motivate, amuse, educate, and inform others to become the stars they were born to be. We have to see beyond our physical beings and know that we have already arrived. To do that, we need to live in the moment and cherish every second making life fun.
We have a motto at Be the Star You Are!® charity: "Read, lead, succeed!" Our volunteers exemplify the qualities of leaders as they lead with empathy, respect, and most of all, joy. If you are looking for a good book, check out honest and reliable book reviews written by our young people at http://www.btsya.com/book_reviews.
This month we are participating in two fun and rewarding events, the Moraga Community Faire and a Shoe Drive to empower women and families living in poverty. Our teen leaders are leading these events and we are proud to support their inspirational actions.
Remember you are the star of your own performance. Make life fun. Care, share, be fair.
Just be you! You are enough.
Happy Spring!
With gratitude,
Cynthia Brian
Founder/Executive Director
Be the Star You Are!®
PO Box 376
Moraga, California 94556
Cynthia@BetheStarYouAre.org
https://www.BetheStarYouAre.org
DONATE: https://www.paypal.com/fundraiser/charity/1504
---
VISIT US AT THE MORAGA COMMUNITY FAIRE on Saturday, April 29th
Volunteers Ruhani, published author and radio host of Express Yourself!™ and Taylin are the teen chairpersons for the Be the Star You Are!® booth sponsored by MB Jessee Painting (https://www.mbjessee.com/) at the 2023 Moraga Faire. Come visit Us at the Moraga Community Faire and Car Show this Saturday! At the Be the Star You Are!® booth you'll be able to plant seeds, receive a free bag of spring potpourri, buy autographed books and fresh Meyer lemons, and enjoy free cookies, thanks to MB Jessee. The event showcases live music, over 70 classic cars, a robust (and FREE) KidZone and SportZone with games, battle bots, sporting contests, animal interactions, pony rides, bounce houses, balloons, face painting, a magician and so much more! Stroll the talented Artist's Alley while noshing on food truck fare and Loard's Ice Cream or while enjoying a local Wine, Cider, or Beer. Ride your bike to the bike valet and then thump a few "big wheels" on big vehicles!
There are so many interesting and interactive booths to see and enjoy this year. Besides visiting Us, you can stop in at booths about acupuncture, gardening, dog training, soaps, and creams, book a travel destination, or sign your trees up for fruit rescue.
Come see Us - rain or shine, at this wonderful, family-friendly event on Saturday, April 29th, 11a-4p at the Rheem Shopping Center (580 Moraga Rd) in beautiful Moraga, CA. MoragaChamber.org/CommunityFaire to check out the schedule of events!
And if you have shoes that you no longer want or need, bring them to our shoe drive.
See you at the FAIRE!!! Mark your calendars for April 29th as this is a very fun, family faire!
Moraga Faire: https://www.bethestaryouare.org/copy-of-events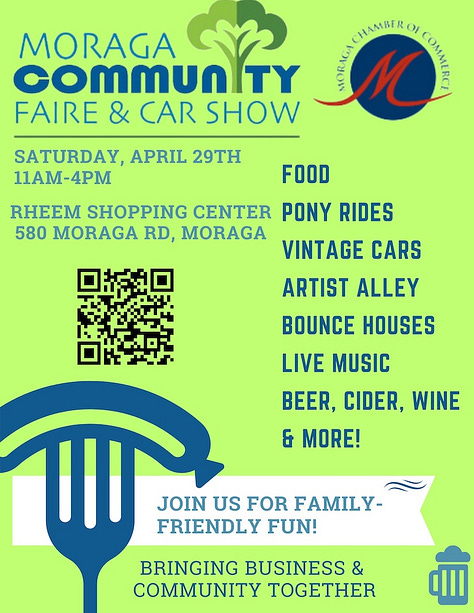 ---
SHOES SHARE THE LOVE!
Many people are unaware that 85% of consumer textiles end up in landfills, a practice that is extremely harmful to the environment. For the past 24 years, Be the Star You Are!® 501 C3 charity has been increasing literacy and saving trees by collecting thousands of new and used books and donating them to disaster relief efforts around the country. With the Russian war against Ukraine and the unprecedented natural disasters around the world, millions of people are currently experiencing difficult living conditions, and, although books are always an enlightening resource, this year Be the Star You Are!® pivoted to share the love and assist with a basic need: shoes.
According to the Environmental Protection Agency, over 70% of the global population needs shoes. In collaboration with Moraga's 5 A Rent-a-Space and Mark Hoogs State Farm Insurance, Be the Star You Are!® volunteers are launching a shoe drive to collect and ship shoes to several countries including Haiti, Pakistan, Ghana, Ukraine, and more to help lift women and families out of extreme poverty by providing a means for them to create a micro-business. These micro-entrepreneurs will be able to sell footwear at an inexpensive price from their home, a street stall, or even a tent to enhance their income and support their families.
"We are excited to launch this new micro-enterprise project. Everyone has a few pairs of wearable shoes that no longer serve us. What a wonderful opportunity to give them to those who need them and will repurpose them to benefit themselves and their communities," says Executive Director, Cynthia Brian.  All clean, new, or gently used shoes of all sizes, boots, and work boots are wanted. No ski or snowboard boots, rollerblades, or ice skates can be accepted. "If possible, please keep pairs together by tying laces or putting a rubber band around the shoes," continues Ms. Brian.
Be the Star You Are!® teen chairperson, Ella Kalpakjian is spearheading the shoe collection at Campolindo High School. Shoes may be dropped in the designated Campo bin beginning on April 17. If you will be attending the Moraga Faire on April 29th, shoes may be delivered to the Be the Star You Are!® booth.
From May 1- June 30th, drop shoes at these two locations:
State Farm Insurance
629 Moraga Road, Moraga
925-254-3344
·      5 A Rent-A-Space
455 Moraga Rd. #F, Moraga
925-631-7000
With your donation of shoes, you will be sharing your love. Thank you!
For more information, visit https://www.bethestaryouare.org/shoedrive
---
School Post-Pandemic
by Shanzay Haris
School during COVID-19 Lockdown was really different and the most significant reason was that it was online, so when I stood in front of Hidden Hills Elementary School in person for 5th grade, I was really excited to be back! School post-pandemic lockdown was definitely different than when I remembered it at the beginning of 3rd grade. In our class, we had to ensure we always wore our masks and kept our distance. It was very hard to get used to, but after a while, I got used to it and it became "normal" school. One thing my mom said I had to do was wash my hands and take a shower after school. Now, in the present day, I am in 6th grade. At school, I see some people wearing masks and some not, since it is optional. We don't get reminded about social distancing anymore, and other than a few people wearing masks, it is back to normal. One thing I learned from the COVID lockdown, is to appreciate what I have right now, otherwise, when things like this happen you realize what things you should have done or thought about.
Shanzay Haris is a twelve-year-old volunteer with Be the Star You Are!® who loves to read books, write, and run.
---
Take Time to Notice
by Karen Kitchel
Has anyone ever told you that you are awesome?  If not, how would it make you feel?
Leaving little positive messages, either verbal or written, can turn someone's day around or create a lasting memory. No need to wait for a major accomplishment.  All it takes is time to notice.
Stop. Look. Listen. Feel. You ARE awesome!
Karen Kitchel who penned two chapters in the book, Be the Star You Are! Millennials to Boomers Celebrating Gifts of Positive Voices in a Changing Digital World, is the Kindness Coordinator volunteer with BTSYA. She serves meals to the homeless and is a volunteer teacher, writer, job coach, and mentor. www.scatteringkindness.com
---
What Literacy Means to Me
by Kennedy Hollins
The definition of literacy is the ability to read or write, but it is so much more. Without literature, we wouldn't know as much as we do. Literature connects people from all over. Whether it's as simple as a quick paragraph posted on Facebook, or an autobiography telling the world your story as Malala Yousafzai did. Literature can date back to 2600 BC when the first piece of literature was made. Today that piece of literature gives us insight into the past history that we might not have known about it without it. Literacy enriches the mind of our youth and later allows them to provide for themselves and their families. While literature provides knowledge, it can also teach things like empathy and critical thinking.  At the end of the day, literature spreads knowledge and brings people together which is a power in itself.
 Kennedy Hollins is a fifteen-year-old BTSYA volunteer in our Book Review program and is currently a sophomore in high school. When she is not reading, you can find her dancing or cooking.
---
SIMPLE WAYS TO HELP!
Spring is time to stock up on gifts for holidays forthcoming. We have suggestions for you to shop, save, and stay safe. Please use these web sites for all of your shopping essentials.
1. Discounted books at Amazon: 
https://www.amazon.com/shops/be_the_star_you_are_charity
2. Giving Assistant: Shop. Earn. Give! Use Giving Assistant to earn cash at 3500+ popular online stores :https://givingassistant.org/np#be-the-star-you-are-inc
3. Shop at over 1300 stores on IGIVE: http://www.iGive.com/BTSYA
4. Buy "Read, Lead, Succeed" black tanks and books at StarStyle® Store: 
http://www.starstylestore.net/
5. Are you a gamer, lover of new software, or other digital content? Buy all of your favorites at Humble Bundle. http://ow.ly/cYs130iN6n4e
---
OUR RADIO BROADCASTS EMPOWER!
When you want to be uplifted and informed, tune into our two radio broadcasts: StarStyle®-Be the Star You Are!® and Express Yourself!™ Teen Radio.
Live every Wednesday from 4-5pm PT, Cynthia Brian hosts the lifestyle program, StarStyle®-Be the Star You Are!® showcasing success-perts and information that will make your life enjoyable and meaningful.
On Sundays from 3-4pm PT, listen to Express Yourself!™ Teen Radio, where teens talk and the world listens. No topic is off limits and the program is uncensored and unedited. What young people are thinking, they are broadcasting.
Tune in to both programs on all platforms where you listen to podcasts and music including iTunes, Tunein, Stitcher, iHeartRadio, Spotify, and more!
---
DIRECT LINKS
Positive Results: https://www.bethestaryouare.org/positive-results
About Us: https://www.bethestaryouare.org/about_us
Programs: https://www.bethestaryouare.org/programs
How to Help: https://www.bethestaryouare.org/how-to-help
Blog: https://www.bethestaryouare.org/blog-1
Events: https://www.bethestaryouare.org/events
Contact us: https://www.bethestaryouare.org/contact
---
Make a DONATION through PAYPAL GIVING FUND and PAYPAL with 100% going to BTSYA with NO FEES:  https://www.paypal.com/fundraiser/charity/1504
https://greatnonprofits.org/org/be-the-star-you-are-in
https://www.guidestar.org/profile/94-333388
BE THE STAR YOU ARE!® is proud to be honored as a TOP NON PROFIT for numerous consecutive years. We THANK YOU for making that happen!
Be the Star You Are!® 501 c3 charity
PO Box 376
Moraga, California 94556
---
Live with Joy!
---