Discover more from StarStyle® Empowerment
Simple Strategies for Living, Loving, Laughing, Learning, while Making a Difference and Having Fun!
The Gift of You!
Celebrating Giving
Miracle Moment®
"It was only a sunny smile, and little it cost in the giving, but like morning light it scattered the night and made the day worth living."~  F. Scott Fitzgerald
---
A Message from founder/Executive Director, Cynthia Brian
Have you ever stopped to contemplate the importance of your smile? When we walk down the street and smile at a stranger, we give the gift of recognition. A smile says "I see you" and every person desires to be seen. As humans, we want to be appreciated and acknowledged. Smiling costs us nothing yet it offers innumerable value to the recipient. We never know what is transpiring in the life of another person. Your smile could be life saving.
This holiday season as we write checks to donate to causes dear to our heart, I encourage you to also give the gift of a smile to everyone you encounter. You will feel empowered and you will shine a light on the soul of another.
Give the gift of YOU!
Thank you for your generosity of spirt.
Sending star smiles across the miles.
Cheers for the holidays.
Cynthia Brian
Founder/Executive Director
Be the Star You Are!®
PO Box 376
Moraga, California 94556
Cynthia@BetheStarYouAre.org
https://www.BetheStarYouAre.org
http://www.BTSYA.org
DONATE: https://www.paypal.com/fundraiser/charity/1504
---
Do you have five minutes….
by Shubham Acharya
"The best way to find yourself is to lose yourself in the service of others" ~ Mahatma Gandhi
Folks, can you think of an entity that is both easy to come-by and very hard to find at the same time? It's time, my friends. So why talk about time when talking about giving back to society? The answer lies in the inherent value of time. Time is the most precious resource that an individual can contribute to any worthy cause or person.
                This philosophy of donating time to people in need forms the bedrock of human culture. Both in moments of joy and sorrow, we look to share our feelings with others.
                Moreover, the scale does not matter. What matters is the gesture itself. Taking the time to listen to someone's problems and offer a shoulder to cry on relieves some of their pain and replaces it with peace. If you manage to do this with just one person a day, you have made the world a little more emphatic. So, giving back to society does not have to involve grand gestures and major financial commitments; it can simply be achieved by devoting a little time and effort to being emotionally available.
Shubham Acharya is a Be the Star You Are!® volunteer in Mumbai, India who believes strongly in women's empowerment and children's literacy. Shubbam writes: "My mother was a teacher in a government sponsored school in one of the poorest localities in my area, so I grew up very aware of the importance of education and literacy in changing people's lives. Having said this, I fell in love with the Be the Star You are!® motto 'To be a leader, you must be a READER'."
---
The Gift of Friendship
By Karen Kitchel
Not all gifts come wrapped in shiny paper with a bow on top. When we think about a time we've felt real joy or comfort, it was often because someone had given us the gift of friendship. It's not the number of years we've known them. It's the feeling we get when they cross our minds.
During the last year, many of us have turned to those special folks for both support and laughter. It would be easy to take these kind souls for granted, but they deserve so much more.
Let us all take a moment now to speak the names of those whom we consider to be our friend and give thanks for the gift of their presence in our life.
 Karen Kitchel who penned two chapters in the book, Be the Star You Are! Millennials to Boomers Celebrating Gifts of Positive Voices in a Changing Digital World, is the Kindness Coordinator volunteer with BTSYA. She serves meals to the homeless and is a volunteer teacher, writer, job coach, and mentor. www.scatteringkindness.com
---
Santa Claus is Coming to Town!
Come celebrate the holidays as Be the Star You Are!® charity and 5 A Rent-A-Space bring the North Pole to Moraga. Children will write letters to Santa and talk to Jolly St. Nick. Buy gifts for the holidays with autographed copies of the new children's book, No Barnyard Bullies while enjoying complimentary refreshments, music, and crafts for kids. The event is FREE! Lots of fun giveaways, too! Bring the family. BTSYA sponsored by Mark hoogs, State Farm Insurance, www.TeamHoogs.com. Thank you!
Location: 5 A Rent a Space, 455 Moraga Rd f, Moraga, CA 94556, USA
Info: https://www.bethestaryouare.org/events-1/santa-day-at-5a-december-10-2022
https://www.paypal.com/fundraiser/charity/150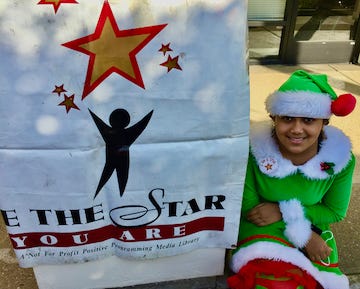 ---
Make a Donation and Receive a Beautiful Dayspring Engraved Pen
Dayspring Pens is proud to partner with Be the Star You Are! through a donation of 50 engraved pens. With a donation of $250 to Be the Star You Are!®, the donor will receive a unique luxury gift pen with custom engraving. Dayspring is honored to be able to donate to an organization that works so diligently to produce positive media and encourage families through books to be what they are! Dayspring hopes that this donation of pens can show the respect and appreciation they hold for those who are vital to Be the Star You Are!'s work of empowering women, families, and youth through the power of positive role models. Visit Dayspring Pens @ https://www.dayspringpens.com
Make a DONATION of $250 through PAYPAL GIVING FUND with 100% going to BTSYA with NO FEES:  https://www.paypal.com/fundraiser/charity/1504. Email your receipt to cynthia@BetheStarYouAre.org and provide your shipping address. You will receive your tax-receipt and your beautiful engraved and boxed pen.
---
SIMPLE WAYS TO HELP!
The holiday shopping spree is in full swing. We have suggestions for you to shop, save, and stay safe. Please use these web sites for all of your shopping essentials.
1. AmazonSmile donates .5% of purchases https://smile.amazon.com/ch/94-3333882
2. Discounted books at Amazon: https://www.amazon.com/shops/be_the_star_you_are_charity
3. Giving Assistant: Shop. Earn. Give! Use Giving Assistant to earn cash at 3500+ popular online stores :https://givingassistant.org/np#be-the-star-you-are-inc
4. Shop at over 1300 stores on IGIVE: http://www.iGive.com/BTSYA
Join the StarStyle® Community with a unique NFT and enjoy exclusive experiences. https://StarStyleCommunity.com

Buy "Read, Lead, Succeed" black tanks and books at StarStyle® Store: 
http://www.starstylestore.net/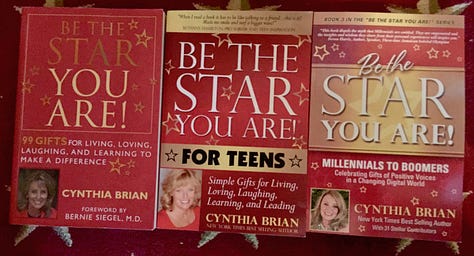 ---
DIRECT LINKS
Positive Results: https://www.bethestaryouare.org/positive-results
About Us: https://www.bethestaryouare.org/about_us
Programs: https://www.bethestaryouare.org/programs
How to Help: https://www.bethestaryouare.org/how-to-help
Blog: https://www.bethestaryouare.org/blog-1
Events: https://www.bethestaryouare.org/events
Contact us: https://www.bethestaryouare.org/contact
---
Make a DONATION through PAYPAL GIVING FUND and PAYPAL with 100% going to BTSYA with NO FEES:  https://www.paypal.com/fundraiser/charity/1504
https://greatnonprofits.org/org/be-the-star-you-are-in
https://www.guidestar.org/profile/94-333388
BE THE STAR YOU ARE!® is proud to be honored as a TOP NON PROFIT for numerous consecutive years. We THANK YOU for making that happen!
---
Sending Season's Greetings and Season's Giving.
You are a GIFT! Thank you for being part of our STAR Galaxy. Give the GIFT OF YOU! SMILE!
---
Be the Star You Are!® 501 c3 charity
PO Box 376
Moraga, California
94556
https://www.BetheSTARYouAre.org
---